The Return of a Giant: Jamison Savage's Geishas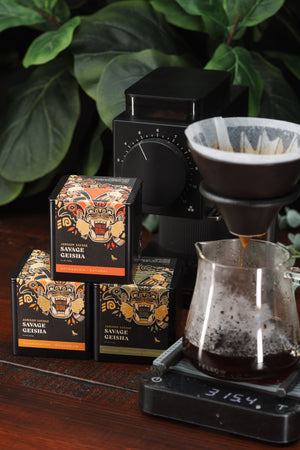 Reserve Series
Volcán, Panama • Finca Deborah • Jamison Savage
Main points:
● Working with Jamison is a testament to direct relationships- this coffee is offered to us, rather than sought.
● The quality of the coffees we acquire from Finca Deborah is among the best we carry in our lineup every year.
The Coffee: Gesha
Gesha coffees have been seen as one of the best coffee varieties since its cultivation in 1931. Originally discovered in the Gori Gesha Forest in Bench Maji, Ethiopia, this incredible variety was shipped to Latin America where it was lost. Fast-forward a few decades to the mid 1990s, gesha trees were found in Panama, where its reputation for wild and intense floral and sweetness truly spread across the coffee world. Geshas from Panama have their own reputation for being unbelievably complex and delicate. Finca Deborah flexes their coffee quality with experimental processing methods. While Afterglow is the shining example of a Natural gesha, Illumination dazzles as an example of the wild carbonic maceration process, and Nirvana takes everything up to the next level with its nitrogenic maceration.
The Producer: Jamison Savage
Making his way into the coffee world after a career in finance, Jamison has made his name as a visionary coffee producer, breaking the mold of traditional farming. Over the past 3-4 years, we've proudly been one of the first and remain one of the only roasters collaborating directly with him. His coffees, known for their incredibly unique and sought-after flavors, have gained acclaim not only in Asia but also across the globe. Jamison's innovative and experimental approach consistently delivers exceptional and enjoyable coffee experiences, marking him as a true master in the field.
The Mission: The Highest Echelon through Experimentation
Savage and Finca Deborah are driven by a relentless pursuit of excellence. Their mission extends beyond cultivating the rarest and highest-quality coffees; it revolves around continuously experimenting and innovating to unlock the full potential of their crops. They embody a spirit of exploration and discovery, striving to redefine the boundaries of coffee excellence.
Tasting notes:
Afterglow: Plum, Strawberry, and Fruit Punch
Illumination: Mango, Pineapple, and Honeysuckle.
Nirvana: Starfruit, Kiwi, and Merlot Grape.
These coffees are available as individual 200g tins, or in a set of three: find them HERE