Notes from Bambito • Panama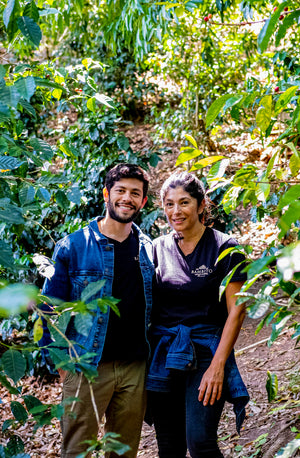 We made the trip to Volcán early in the morning, and turned right; past the Mercado where old men roll up in their land cruisers to stock up on supplies, smoke a little, and chat casually on bright yellow benches in the grass. We've been here before- on the western slope of Volcán Baru in an original jungle town full of hospitality and a slow reverence for their careful and consistent craft. We followed a small stream down a narrow canyon for maybe a mile or two before seeing the unmarked wooden gates of Bambito. Here, the buildings are rustic, wooden structures with flowers hanging on the windows and surrounding every entrance.
Upon arrival, we were welcomed extremely warmly by Ivan and Priscilla Gonzalez, a mother and son team, and relaxed with fresh lemonade and cervezas before cupping in the original 12x10 house, still sturdy and beautifully aged. 
Off the back of the house grows a beautiful garden full of flowers. It's reminiscent of their farm; a beautiful coffee garden in the middle of the jungle. This setting is where Ivan grows coffee just like his great-grandfather did - honoring four generations of familial coffee farmers here. 

They told us how they carefully think about their coffee and produce just four offerings every year, refining and applying the same traditional processes each harvest. Their geisha was beautiful and simple, and transported us to the origins of this variety; jasmine like coffee flower notes, fresh wild strawberry, and a bit of exotic fruit all bursting with vibrancy and fragrant aromatics.

We cupped before eating and then hiked through Ivan and Priscilla's farm, right off the backyard and up the mountain to the peak, where you can see Baru cloaked in clouds what seems like a stones throw away. It's peaceful here, and the traditional slow pace isn't something that comes from lack of innovation but rather from appreciation for careful self improvement and a love of the best in their family's history and heritage. 

The fruit of this trip rewards us as Bambito, a Geisha that's been cultivated through generations of tradition, is grown in beautiful soil, and gives up one of the most classic "Panamanian Geisha" profiles we've ever had.

Bambito. Available via Reserve Drop on October 23rd, 2020.